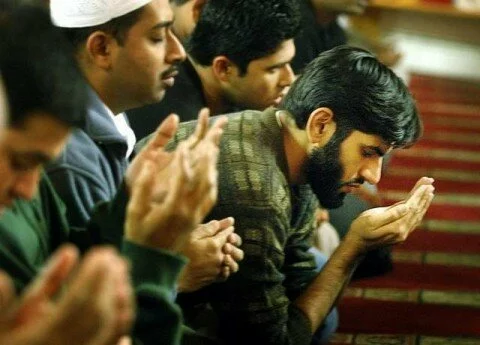 Monday morning, hours before the sun comes up, Muslims around the country will arise to eat and pray. It is the first day of Ramadan, and once the sun rises most Muslims will begin fasting — refraining from eating, drinking, smoking, sex and any other wordly temptation — until the sun sets again that night.
Karim Moukrime is looking forward to it. "All Muslims look forward to Ramadan," he insists.
A native of Morocco, Moukrime has loved Ramadan since he was a little boy when the entire family and community would observe the cycle of fasting and eating, with days and nights switched, special foods served and gatherings planned.
He also loves the prayers and the renewed emphasis on reading the Quran and living a good life.
"We try to be the best people we can be for the sake of God," he says. During this time, Muslims believe that the doors of heaven are opened, while the doors of hell are closed and Satan is chained.
"Ramadan is the holy month when the Quran was first revealed to the Prophet Muhammad, peace be upon him," Moukrime explains.
Daylight fasting
Fasting during the month of Ramadan is one of the Five Pillars of Islam, required of every Muslim.
Throughout the month, which will conclude Aug. 31, Muslims will not eat or drink even a sip of water during the daylight hours.
With daylight lasting as long as 14 hours at this time of year and temperatures soaring into the three-digit range, that can be a challenge.
So Moukrime will start his day about 3:30 a.m., about three hours before the sunrise. Then, he will prepare food — suhoor, drink as much as he can, and will pray. He will then crawl back into bed to rest until he has to get up to teach his 10:30 a.m. Arabic class as Missouri State University.
While most countries with a majority Muslim population will adjust schedules during Ramadan, living in the United States means activities continue as usual.
For Moukrime, that means teaching classes, attending meetings, going to the store and other daily duties. But he makes sure that he stays cool and gets plenty of rest.
"Naps are good," he says. "Naps are very good."
In the evening, he will try to relax until sundown, when he will eat iftar — breakfast. He will start with water and have some harira, a tomato lentil soup that is traditional in Morocco, and maybe a small selilou — a pastry his mother made for Ramadan with crushed almonds, flour, sesame, sugar and spices. He points out that it is important not to overindulge after a long day of fasting. Later, he will eat a more substantial meal.
A few times a week, the members of the Islamic Center in Springfield will meet together for Iftar. With a diverse membership, representing a variety of countries and cultures, the food is always interesting, says Moukrime. And the community will celebrate Eid al Fitr when Ramadan ends.
"Ramadan mode"
Dr. Bill Bayazed, an internist at St. John's Hospital and a native of Syria, remembers the excitement of staying up all night during Ramadan and sleeping all day, but in the United States that is not usually possible.
"I remember when we were kids we could not wait for Ramadan," Bayazed says. "It brought up such feelings of joy and happiness. … It was so much fun."
The community would "switch into Ramadan mode," with each community participating in its traditions and rituals.
"The whole community goes into this ritual," he explains. "You go to prayer early, before sunrise. People stay up all night."
Both men are clear about one thing, that observing Ramadan is an important part of their faith journey.
"It's all about your relationship with Allah," says Bayazed. "Whether you do that with your heart, your body or your work. It is about your devotion to Allah, to God."
Source : Springfield News-Leader
No Comments »
No comments yet.
RSS feed for comments on this post. TrackBack URL
Leave a comment