After Swami Aseemanand spilled the beans on senior RSS leader Indresh Kumar's role in several blasts at Muslim religious places, the task of Rajasthan anti-terrorist squad (ATS), probing the Ajmer blast, became easier.
A notice will soon be sent to Indresh Kumar for his questioning in connection with the Ajmer dargah blast case that killed two persons and injured 15 others in October 2007, said a source.
"We are definitely going to question Indresh Kumar now. After the statement recorded before a magistrate, Aseemanand will be of great help for the ATS. We will independently interrogate him and then send a notice to Indresh Kumar for interrogation," said a senior officer.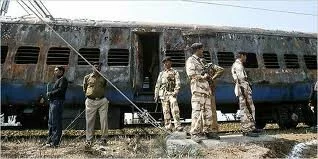 According to him, Rajasthan ATS was the first to mention Indresh Kumar in the chargesheet of Ajmer dargah blast case. "He was not named an accused as the ATS wanted to probe his role further and collect evidence against him. With Aseemanand's confession, the investigation against some suspected Hindu leaders including Indresh has got a shot in the arm," said the officer.
In the chargesheet filed in the court of additional chief judicial magistrate Jagendra Kumar Jain in October last year, the ATS had claimed that a secret meeting was held in room no. 26 of Gujarati Samaj guest house on October 31, 2005. Indresh Kumar, Pragya Singh Thakur, Sunil Joshi, Ramji Kalsangra, Devendra Gupta, Lokesh Sharma and Sandeep Dange attended the meeting.
The ATS had been tipped off about his role in Ajmer blast by Bharat Bhai Rateshwar, a witness in the case. A resident of Gujarat's Valsad, he was one of the 11 witnesses who recorded their statement under Section 164 CrPC in an Ajmer court in October last year.
Aseemanand had apparently told Bharat about Indresh's role in Ajmer blast. Bharat also told investigators that Sunil Joshi had called up Bharat soon after the explosion. Joshi, shot dead near Devas Bypass in Madhya Pradesh two months after Ajmer blast, was allegedly a key conspirator.
Aseemanand's candid admission that Indresh was in the loop while blasts were planned will further boost the confidence of ATS. Till now, Rajasthan ATS was reluctant to question Indresh Kumar fearing political backlash.
In a statement recorded before a magistrate under Section 164 CrPC, Aseemanand reportedly said Indresh was part of the plan hatched to avenge attacks of Islamic terrorists on Hindu temples. Indresh helped enlist members for the terror plot by Hindutva outfits, Aseemanand claimed. Among them were Sunil Joshi and Ramchandra Kalsangra, aka Ramji. Indresh also discouraged Aseemanand from taking to violence himself.
CBI, probing the Hyderabad Mecca Masjid blast, had questioned Indresh Kumar after interrogating Aseemanand in Hyderabad. The NIA has also interrogated Aseemanand in connection with Samjhauta Express blast.
Source : The times of  India
No Comments »
No comments yet.
RSS feed for comments on this post. TrackBack URL
Leave a comment