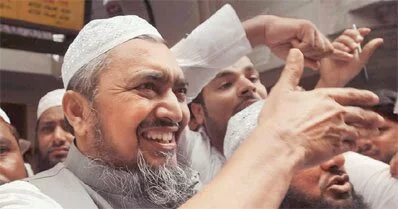 Maulana Ghulam Mohammad Vastanvi's removal from the post of the Darul Uloom Deoband vice-chancellor has not gone down well with his supporters in Gujarat.
His supporters are of the view that it is more the reputed Islamic institution's loss than that of the cleric.
They maintain that Vastanvi represents the progressive face of Muslim clergy and his removal is a result of politics and internal lobbying within the Darul Uloom.
"As it is, he (Vastanvi) heads more than 200 educational institutes and one more or less doesn't really effect him much," Zafar Sareshwala, the chief of Parsoli Corporation Limited, a pioneer of Islamic finance, and an ardent Vastanvi supporter, said.
"However, this is certainly a sad development," he added.
Sareshwala pointed out that the three-member panel, that was appointed to look into Vastanvi's statement said to be praising Gujarat chief minister Narendra Modi, had submitted a 15-page report, exonerating him from saying anything he shouldn't have.
Former Jamaat-e-Islami Hind Gujarat chief Shafi Madni echoed similar sentiments. In a guarded response, he said while he isn't aware of the internal intricacies of Darul Uloom which led to Vastanvi's ouster, but added if he was ousted only because of his alleged praise of Modi, this was certainly not correct.
Source : India Today
No Comments »
No comments yet.
RSS feed for comments on this post. TrackBack URL
Leave a comment