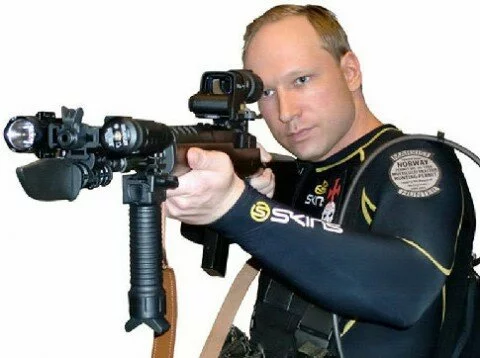 The Islamophobic farmer accused of slaughtering 97 people in twin attacks in Norway used hollow-point bullets to inflict maximum damage and now wants to tell the world why, officials said Sunday.
Anders Behring Breivik, expected to be arraigned Monday on terrorism charges, told his attorney that while his actions were "atrocious," they were "necessary."
Defense attorney Geir Lippestad said Breivik, who spent two years penning a 1,500-page hate-filled manifesto aimed at Muslims and immigrants, has requested an open-court hearing "to explain himself."
Scotland Yard counter-terrorism detectives were probing Breivik's claims that he was recruited by two English extremists at a 2002 meeting in London. He also boasted of being a successor to the medieval Knights Templar.
The law enforcement agency is currently searching for possible British accomplices in the twin terror attacks that rocked Norway and shocked the world, the Sunday Telegraph reports.
Breivik, 32, is accused of killing seven people by unleashing a fertilizer bomb Friday in front of a downtown Oslo government building, then following it up with a shooting spree at a youth camp on a nearby island.
The death toll from the bloodbath on Utoya Island rose to 86 yesterday, but officials said several campers were still missing. At least 90 victims were wounded.
Breivik was armed with a pistol and an assault weapon when he prowled the island in a police uniform firing at innocent victims attending the camp, organized by the liberal Norwegian Labor Party.
When taken into custody, Breivik was armed with a "significant amount of ammunition," said Oslo Senior Police Officer Johan Fredriksen.
Doctors said the victims were shot with hollow-point, or dumdum bullets. "These bullets more or less exploded inside the body," said Dr. Colin Pool of Ringriket Hospital in Oslo.
Breivik's father, Jens Breivik, a retired Norwegian diplomat and Labor Party supporter who has been estranged from his son for 16 years, condemned the massacre. "I view this atrocity with absolute horror," he said.
Source : New York Daily News
No Comments »
No comments yet.
RSS feed for comments on this post. TrackBack URL
Leave a comment