Random Quran quotes
Quran Quote :
There is no god but I, so do your duty unto me. (Nahl-2)   
View All
Random Hadith
Hadith Quote :
Narrated 'Aisha: The Prophet said to his wives, "Y   
View All
Around Sept. 11, 2001, not long after she founded the Islamic Speakers Bureau of Atlanta, Soumaya Khalifa heard from a group whose name sounded like "Bakers Club." It wanted a presentation.
The address was unfamiliar, but she went anyway. The group turned out to be the Bickerers Club, whose members love to argue. Islam was their topic du jour and theirvenue was a tavern. Ms. Khalifa laughed, and made the best of it.
Ms. Khalifa, who was born in Egypt and raised in Texas, wears a head scarf but also juggles, comfortably, the demands of American suburbia: crowded schedule, minivan and all.
She is one of a type now found in most sizable U.S. cities: vocal Muslim women wary of the predominantly male leadership of their community and increasingly weary of suspicions of non-Muslims about Islam.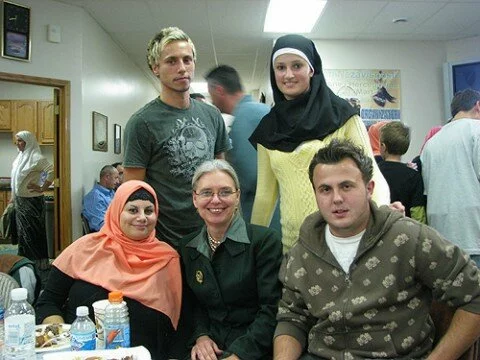 These women have achieved a level of success and visibility unmatched elsewhere. They say they are molded by the freedoms of the United States — indeed, many unabashedly sing its praises — and by the intellectual ferment stirred when American-born and immigrant Muslims mix.
"What we're seeing now in America is what has been sort of a quiet or informal empowerment of women," said Shireen Zaman, executive director of the Institute for Social Policy and Understanding, a nonprofit research institute founded after the 2001 attacks to provide research on American Muslims. "In many of our home countries, socially or politically it would've been harder for Muslim women to take a leadership role. It's actually quite empowering to be Muslim in America."
As Najah Bazzy, a American-born nurse and founder of several charities in Michigan, put it: "Yeah I'm Arab, yeah I'm very American, and yeah I'm very Islamic, but you put those things in the blender and I'm no longer just a thing. I'm a new thing."
It is not always easy. Several of the Muslim women interviewed for this article said they had been the object of abusive letters, e-mails or blog posts.
Yet in their quest to break stereotypes, America's Muslim women have advantages. They are better educated than counterparts in Western Europe, and also than the average American, according to a Gallup survey in March 2009. In contrast to their sisters in countries like Egypt and Saudi Arabia, they are just as likely as their menfolk to attend religious services, which equates to greater influence. And Gallup found that Muslim American women, often entrepreneurial, come closer than women of any other faith to earning what their menfolk do.
"Muslims coming to North America are often seeking an egalitarian version of Islam," said Ebrahim Moosa, an associate professor of Islamic studies at Duke University. "That forces women onto the agenda and makes them much more visible than, say, in Western Europe."
Besides her speakers' bureau, which advertises itself as "a bridge between Islam and Americans of other faiths," Ms. Khalifa heads a consultancy working with students, executives, soldiers and even the F.B.I. to overcome stereotypes. Some people she addresses have never met a Muslim. Some look askance at head scarves.
Ms. Khalifa, who has degrees in chemistry and human resources, began wearing a head scarf in her mid-30s, about 15 years ago. At first, she said, people looked at her "like I was different, Muslim, un-American, stupid."
But she is quietly persistent. When a small-town newspaper refused to run Ms. Khalifa's ad listing the hours of a nearby mosque, she organized a successful boycott by local churchmen.
Perhaps the most noticed figure among American Muslim women is Ingrid Mattson. In a bright-red jumper and multicolored head scarf, she stood out among the gray-haired clerics in black who gathered in Washington in September to try and defuse the anger over the planned mosque near the World Trade Center site in New York.
Ms. Mattson, who is 47 and teaches at the Hartford Seminary in Connecticut, became the first woman to head the Islamic Society of North America, one of the largest Muslim associations on the continent.
She was first elected vice president on Sept. 4, 2001, then president in 2006, a position she held until September; those years were so full of sound and fury over all things Muslim that gender took a back seat.
Source : New York Times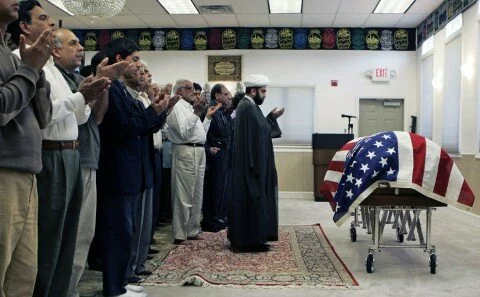 Imam Hashim Raza leads mourners in prayer during a funeral for Mohsin Naqvi at al-Fatima Islamic Center in Colonie, N.Y., Monday, Sept. 22, 2008. Naqvi was a Muslim, a native of Pakistan (he emigrated to the U.S. with his family when he was 8 years old and became a citizen at 16) and a U.S. Army officer. He was killed by a roadside bomb while on patrol in Afghanistan. (AP Photo/Mike Groll)
The Muslim cleric who hopes to build an Islamic center near the World Trade Center site said Friday that he'll tour the country in an effort "to inspire interfaith understanding" for a project that has ignited explosive faceoffs between supporters and opponents.
"The major purpose is to make people aware of what America means as a country that protects the right to freedom of religion," Imam Feisal Abdul Rauf told The Associated Press.
American Muslims like himself, he said, "can play an important role as interlocutors between the United States and the Muslim world."
Rauf's first appearance is scheduled for Detroit on Jan. 15. The city has North America's largest Muslim population.
The imam said he'll continue on to Chicago, Washington, San Antonio and college campuses including Harvard, Georgetown, Yale and the University of North Carolina. He did not release specific dates for his speeches.
Rauf said he expects the tour will end sometime in April; he's still receiving and considering invitations.
In a telephone interview — "on a cell phone while shopping," he said — he told the AP that he wants to make clear both to New Yorkers and people across the country the purpose of a project "about which I've been dreaming for 20 years."
He said the Islamic center would be modeled on Manhattan's 92nd Street Y — "a community space where people of all faiths can come to participate in everything from athletics to cooking classes, adult education programs, and panel discussions on issues of importance."
There also would be theater productions and film screenings, he said.
Last summer, Rauf's idea of constructing the high-rise Islamic community center and mosque two blocks from ground zero provoked a political firestorm that led to virulent demonstrations.
Opponents call it offensive to families of Sept. 11 victims and are demanding that the project be moved to another location. They say building a mosque near the site of the terrorist attack perpetrated by Muslim extremists is an affront to them.
New York Mayor Michael Bloomberg has endorsed the center at the original proposed location.
Rauf noted that he's been "a member of the Lower Manhattan community for 25 years" — leading a mosque about a 15-minute walk from the site of the proposed new Islamic center.
In Detroit, Rauf is scheduled to deliver a keynote address to the so-called "Diversity Forum Banquet" of the Islamic Society of North America.
"I want to inspire interfaith understanding," he said. "This past summer, during the demonstrations, we also saw the birth of what we believe to be a global movement of people of all faiths who want to have a better future for their children and grandchildren."
Despite opposition to the Islamic center, the imam is viewed as a moderate Muslim sponsored by the U.S. State Department to travel on behalf of the United States, tempering extreme positions in the interest of world peace.
"It's a good idea to reach out to Americans and address any misunderstandings between Muslims and non-Muslims," Zaheer Uddin, head of New York's Islamic Leadership Council, said of Rauf's speaking tour.
Source :  AFP