Random Quran quotes
Quran Quote :
But the god of you all is the one Allah: There is no god but He.   (Taha-98)   
View All
Random Hadith
Hadith Quote :
Narrated Ibn 'Abbas: Once the Prophet entered a la   
View All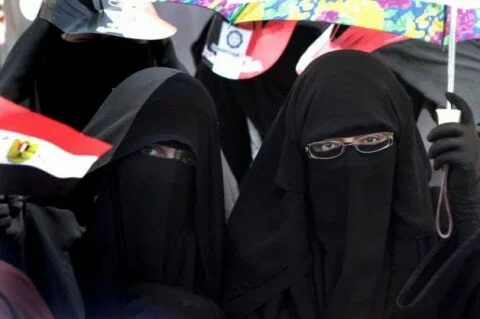 Tens of thousands of ultraconservative Muslim males in long beards, robes and prayer caps thronged Cairo's central Tahrir Square in a massive show of force Friday, calling for the implementation of strict Islamic laws and sparring with liberal activists over their visions for a post-revolution Egypt.
It was the first rally with religious overtones in Egypt, and one of the largest, since the uprising that forced President Hosni Mubarak to step down in mid-February. The strong showing by the Islamists demonstrated their powerful organizational abilities, which will likely help them in parliamentary elections later this year.
"Islamic. Islamic. Not Western or Eastern. No liberal or secular," chants of Salafis, who follow a strict form of Islam, echoed through the square.
The youth activists who have been at the helm of mass protests calling for faster change from the country's interim military rulers withdrew from the rally soon after Friday prayers, accusing the Islamists of violating an agreement to avoid divisive issues.
"While the civil organizations are trying to respect the effort to complete the revolution by unifying the ranks, the Islamic groups insisted on breaking the unity and assisting the military council in a deal that I think will divide this country in two," said liberal activist Mustafa Shawki. "This is what we were afraid of."
Salafis are ultraconservatives, close to Saudi Arabia's Wahhabi interpretation of Islam. Many reject all forms of Western cultural influence.
Source : Albany Times Union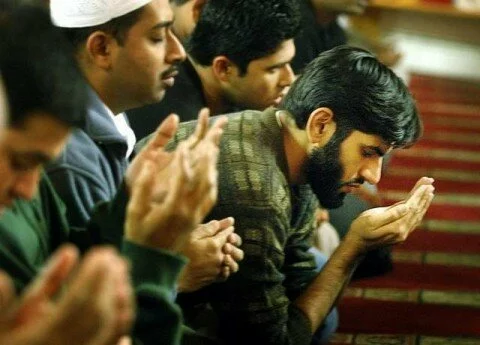 Monday morning, hours before the sun comes up, Muslims around the country will arise to eat and pray. It is the first day of Ramadan, and once the sun rises most Muslims will begin fasting — refraining from eating, drinking, smoking, sex and any other wordly temptation — until the sun sets again that night.
Karim Moukrime is looking forward to it. "All Muslims look forward to Ramadan," he insists.
A native of Morocco, Moukrime has loved Ramadan since he was a little boy when the entire family and community would observe the cycle of fasting and eating, with days and nights switched, special foods served and gatherings planned.
He also loves the prayers and the renewed emphasis on reading the Quran and living a good life.
"We try to be the best people we can be for the sake of God," he says. During this time, Muslims believe that the doors of heaven are opened, while the doors of hell are closed and Satan is chained.
"Ramadan is the holy month when the Quran was first revealed to the Prophet Muhammad, peace be upon him," Moukrime explains.
Daylight fasting
Fasting during the month of Ramadan is one of the Five Pillars of Islam, required of every Muslim.
Throughout the month, which will conclude Aug. 31, Muslims will not eat or drink even a sip of water during the daylight hours.
With daylight lasting as long as 14 hours at this time of year and temperatures soaring into the three-digit range, that can be a challenge.
So Moukrime will start his day about 3:30 a.m., about three hours before the sunrise. Then, he will prepare food — suhoor, drink as much as he can, and will pray. He will then crawl back into bed to rest until he has to get up to teach his 10:30 a.m. Arabic class as Missouri State University.
While most countries with a majority Muslim population will adjust schedules during Ramadan, living in the United States means activities continue as usual.
For Moukrime, that means teaching classes, attending meetings, going to the store and other daily duties. But he makes sure that he stays cool and gets plenty of rest.
"Naps are good," he says. "Naps are very good."
In the evening, he will try to relax until sundown, when he will eat iftar — breakfast. He will start with water and have some harira, a tomato lentil soup that is traditional in Morocco, and maybe a small selilou — a pastry his mother made for Ramadan with crushed almonds, flour, sesame, sugar and spices. He points out that it is important not to overindulge after a long day of fasting. Later, he will eat a more substantial meal.
A few times a week, the members of the Islamic Center in Springfield will meet together for Iftar. With a diverse membership, representing a variety of countries and cultures, the food is always interesting, says Moukrime. And the community will celebrate Eid al Fitr when Ramadan ends.
"Ramadan mode"
Dr. Bill Bayazed, an internist at St. John's Hospital and a native of Syria, remembers the excitement of staying up all night during Ramadan and sleeping all day, but in the United States that is not usually possible.
"I remember when we were kids we could not wait for Ramadan," Bayazed says. "It brought up such feelings of joy and happiness. … It was so much fun."
The community would "switch into Ramadan mode," with each community participating in its traditions and rituals.
"The whole community goes into this ritual," he explains. "You go to prayer early, before sunrise. People stay up all night."
Both men are clear about one thing, that observing Ramadan is an important part of their faith journey.
"It's all about your relationship with Allah," says Bayazed. "Whether you do that with your heart, your body or your work. It is about your devotion to Allah, to God."
Source : Springfield News-Leader

It hurts the feelings of all Muslims when they see their brethren themselves causing harm to Islam, King Abdullah, Custodian of the Two Holy Mosques, said here Monday in an address to participants of an Islamic conference organized by the Muslim World League in Makkah.
While it causes pain to us, it provides an opportunity to the enemies of Islam to gloat over the unfortunate trend, the King told the delegation, which was led by Grand Mufti Sheikh Abdul Aziz Bin Abdullah Aal Al-Sheikh and Secretary General of MWL Dr. Abdullah Bin Abdulmohsen Al-Turki.
The three-day conference, which concluded Monday, urged scholars, intellectuals and all Islamic organizations to cooperate in intensifying Da'wa work and education programs. The aim of these programs, the conference said, should be for enlightenment of Muslim communities, particularly youth, on the objectives of Islamic Shariah as also on its significance in various walks of life.
King Abdullah welcomed the participants of the conference and called on them to abide by the Islamic creed (Aqeedah).
The Monarch said it was the duty of all Muslims to defend the Aqeedah. The Monarch also called on the participants to exert more efforts to present the true message of Islam.
"There is a group among Muslims which is destroying the Muslim world by discrimination and matters that have nothing to do with the Islamic Aqeedah," the Monarch said. "Now you the sons of Islam are responsible before Allah, your people and the world. Thanks to Allah Islam is victorious. Over 400 to 500 people embrace Islam every month despite the destruction taking place in the Muslim World regrettably due to our own sons. Therefore, you should reject them and abide by the correct Islamic Aqeedah, the creed of love, sincerity, loyalty and belief. You, the sons of Islam should shoulder the responsibility. I wish you all success. We are ready to give whatever is required of the Kingdom of Saudi Arabia to serve Islam and Muslims." The King asked the Muslim World League secretary general to make the meeting an annual occasion.
A communiqué at the end of the conference in Makkah, which was read out by Dr. Abdur Rahman Abdu Zaid, Assistant Secretary General of the MWL, in general reaffirmed on the importance of inculcating the values of Islam into young generations and securing means that assist them to understand its objectives.
The communique warned people against disunity and its subsequent elements such as  sectarian calls, narrow party tendencies that break down ranks of Muslims and negatively impact their formidable unity.
The participants urged the scholars and political leaders of the Ummah to cooperate fully among themselves in addressing the problems with Islamic viewpoints.
Security and stability of Muslim communities will be a priority, it said, to confirm the inviolability of people's lives, dignity and property according to Islamic Shariah that safeguards the achievement of security via the establishment of justice as well as combat of injustice and corruption.
The conference, the communiqué said, has reviewed the complications of problems in certain Muslim countries, which led to "bloodshed, exodus of population, insecurity, and destruction of property," and stressed on the importance of cooperation and unity among all sections of society to stop needless bloodshed.
Furthermore, the conference called upon the Muslim countries, Arab League, Organization of Islamic Cooperation (OIC), international institutions to take every possible step to prevent these acts of seditions, which entailed killings, tortures and forced migration.
The conference "thoroughly reviewed" the newly emerging situations in the Muslim World and understand that there is a huge gap in relations between the rulers and the scholars and the peoples in some of the affected countries and underlined the importance of a united stand for reform.
The conference also praised King Abdullah's initiative on dialogue between monotheistic religions. "It (the initiative) has a positive impact on understanding, cooperation and peaceful coexistence among different nations", it said.
The conference participants considered it significant for Muslim countries to adopt the same formula of dialogue as means for surmounting disagreements and a way for finding effective solutions to the challenges confronting the Ummah.
Addressing the media later, Dr. Al-Turki said the conference was a wakeup call for the Muslim countries to get their houses in order and take into consideration the unabated unrest due mainly to unemployment and bad economy.
"People too have their responsibility toward their rulers," Dr. Turki said and cautioned them not to fall prey to act of sedition.
He assured that the conference was not coming to an end but is a beginning as "we will hold this conference on annual basis and all of you will remain members in the effort to bring succor to Muslim Ummah including its peoples and leaders in bringing their countries back to normal." Caption : King Abdullah receives one of the participants of the Islamic conference in Jeddah, Monday. Dr. Abdullah Bin Abdulmohsen Al-Turki, Secretary General of the Muslim World League, is on the right.
Source : Saudi Gazette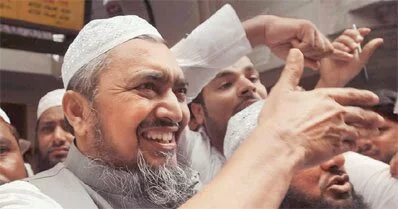 Maulana Ghulam Mohammad Vastanvi's removal from the post of the Darul Uloom Deoband vice-chancellor has not gone down well with his supporters in Gujarat.
His supporters are of the view that it is more the reputed Islamic institution's loss than that of the cleric.
They maintain that Vastanvi represents the progressive face of Muslim clergy and his removal is a result of politics and internal lobbying within the Darul Uloom.
"As it is, he (Vastanvi) heads more than 200 educational institutes and one more or less doesn't really effect him much," Zafar Sareshwala, the chief of Parsoli Corporation Limited, a pioneer of Islamic finance, and an ardent Vastanvi supporter, said.
"However, this is certainly a sad development," he added.
Sareshwala pointed out that the three-member panel, that was appointed to look into Vastanvi's statement said to be praising Gujarat chief minister Narendra Modi, had submitted a 15-page report, exonerating him from saying anything he shouldn't have.
Former Jamaat-e-Islami Hind Gujarat chief Shafi Madni echoed similar sentiments. In a guarded response, he said while he isn't aware of the internal intricacies of Darul Uloom which led to Vastanvi's ouster, but added if he was ousted only because of his alleged praise of Modi, this was certainly not correct.
Source : India Today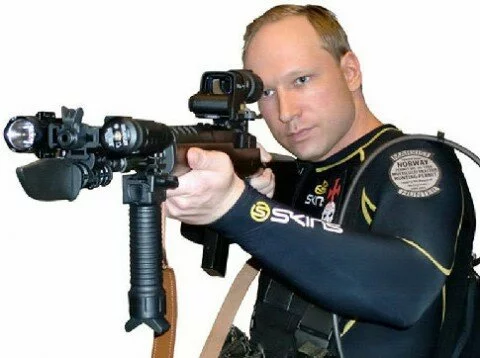 The Islamophobic farmer accused of slaughtering 97 people in twin attacks in Norway used hollow-point bullets to inflict maximum damage and now wants to tell the world why, officials said Sunday.
Anders Behring Breivik, expected to be arraigned Monday on terrorism charges, told his attorney that while his actions were "atrocious," they were "necessary."
Defense attorney Geir Lippestad said Breivik, who spent two years penning a 1,500-page hate-filled manifesto aimed at Muslims and immigrants, has requested an open-court hearing "to explain himself."
Scotland Yard counter-terrorism detectives were probing Breivik's claims that he was recruited by two English extremists at a 2002 meeting in London. He also boasted of being a successor to the medieval Knights Templar.
The law enforcement agency is currently searching for possible British accomplices in the twin terror attacks that rocked Norway and shocked the world, the Sunday Telegraph reports.
Breivik, 32, is accused of killing seven people by unleashing a fertilizer bomb Friday in front of a downtown Oslo government building, then following it up with a shooting spree at a youth camp on a nearby island.
The death toll from the bloodbath on Utoya Island rose to 86 yesterday, but officials said several campers were still missing. At least 90 victims were wounded.
Breivik was armed with a pistol and an assault weapon when he prowled the island in a police uniform firing at innocent victims attending the camp, organized by the liberal Norwegian Labor Party.
When taken into custody, Breivik was armed with a "significant amount of ammunition," said Oslo Senior Police Officer Johan Fredriksen.
Doctors said the victims were shot with hollow-point, or dumdum bullets. "These bullets more or less exploded inside the body," said Dr. Colin Pool of Ringriket Hospital in Oslo.
Breivik's father, Jens Breivik, a retired Norwegian diplomat and Labor Party supporter who has been estranged from his son for 16 years, condemned the massacre. "I view this atrocity with absolute horror," he said.
Source : New York Daily News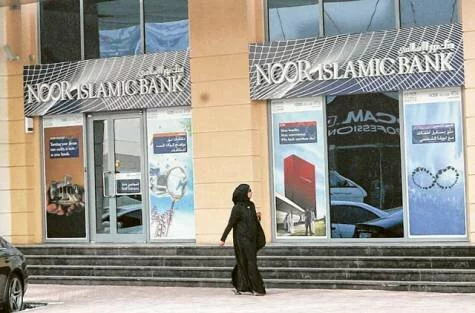 Noor Islamic Bank (NIB) yesterday reported a net profit of Dh85 million for the first six months of 2011 as it posted a net operating profit of Dh207 million, on a revenue base of Dh386 million.
"Our robust performance in the first half of the year is a direct result of the strategic initiatives and business model realignment that we have been undertaking within the bank over the past 18 months. Our efforts to focus our expertise on niche business opportunities are reflected in our earnings momentum," said Shaikh Ahmad Bin Mohammad Bin Rashid Al Maktoum, Chairman of Noor Islamic Bank.
The bank has reported net profit of Dh85 million in the first half of this year against an operating loss of Dh9 million at the end of the first half of 2010.
"The past six months of this year have shown steady growth in our net revenues of Dh386 million, while simultaneously generating an improvement of 7 per cent in our expense base against the same period last year," said Hussain Al Qemzi, Chief Executive Officer, Noor Islamic Bank and Group CEO, Noor Investment Group.
The bank said yesterday that its deposit base grew 40 per cent in 2011 over same period last year, on a client base that has grown by 21 per cent. The bank's capital adequacy ratio was at 18.36 per cent at the close of the first half. Noor Islamic Bank, which is in its fourth year of operation, is poised to break even this year, Al Qemzi told Gulf News in a recent interview.
"After the launch of the bank in 2008, later that year the financial crisis hit the markets. As a result we decided to be cautious as the changes were rapid and so uncertain that we decided to refocus our efforts. Our efforts and patience are helping us now in the recovery process. Today the bank is in much better shape," Al Qemzi said.
Noor's improved results are underpinned by increased operating revenues and earnings stemming from the strategic consolidation drive adopted in 2010. Cost reductions were implemented with minimal impact on the bank's overall business objectives and by continually exercising disciplined risk management practices, the bank was able to deliver strong financial results, the bank said in a statement.
Source : gulfnews.com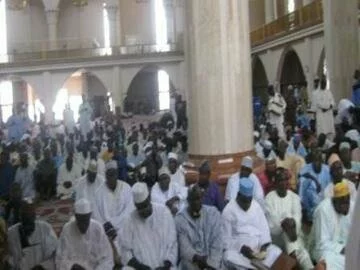 A Muslim group in the North yesterday threatened to defend the implementation of the Islamic Banking system with the last drop of their blood. It warned the Christian community opposed to it to back off or face the full wrath of their anger.
The Supreme Council for Sharia in Nigeria told reporters at the end of its meeting in Kaduna last night that it would rather go to war than give up their agitation for Islamic banking. It said since Islamic banking has been implemented in Britain and other Christian-dominated countries, there is no reason why it cannot be implemented in Nigeria.
President of the group, Dr. Ibrahim Datti Ahmed, who read the communiqué, warned Christians to drop their opposition to the interest-free Islamic banks in Nigeria.
Datti said: "We are very happy that with a lot of efforts Jaiz Bank has now become a reality. The company owning Jaiz has assured us that the bank is coming in September and they have assured us that they will be starting with three branches, namely Abuja, Kaduna and Kano. And they will continue to open the branches rapidly thereafter.
"I want to assure them that nothing can stop the Jaiz bank from coming into been because it's being brought in according to the laws of Nigeria. There is nothing illegal about it. If they have a Christian bank that they want to establish, they have the freedom to bring it to the Central bank and if they can prove their case, a Christian bank will be opened.
Source : The Nation Newspaper
Nigerian Terrorist Group Splits?

The press is reporting that Yusufiyya Islamic Movement (YIM) distributed leaflets widely in Maiduguri on July 19 denouncing other Boko Haram factions as "evil." The authors of the leaflet, asserting the legacy of founder Mohammed Yusuf, distanced themselves from attacks on civilians and on houses of worship. It said it would suspend its military operations during the month of Ramadan, which starts August 1.
As indicated by the leaflet, YIM's goals appear limited: free exercise and propagation of Islam, compensation for destroyed mosques and other property, and punishment of those who murdered Yusuf and others. The leaflet denounced the former governor of Borno state, the former Borno police commissioner, and former president Umaru Yar'Adua, who it said "has since been seized by Allah in an answer to the sect's prayers for support against his aggression." Notably, all of those YIM denounced were Muslims. The leaflet appears to have been silent on the secular nature of the Nigerian state and on Christians.
YIM might be opening the door to possible negotiations with the federal and state authorities, and the possibility of a general cease-fire during the month of Ramadan. The harshness of YIM's rhetoric gives it some credibility. But it is too soon to say how significant is this alleged split in Boko Haram. If Boko Haram has split between YIM "moderates" and unidentified "radicals," what the latter group wants and will do remains unclear. Indeed, Boko Haram up to now has resembled a broad movement rather than a political program. As such, it would be open to splits and internal conflicts, and to manipulation by those with conflicting agendas. Further, it remains unclear with whom the government could negotiate on the Boko Haram or YIM side. Boko Haram's leadership structure continues to be clandestine.
As far as official response to intense violence in Borno state, the current governor has called for dialogue and has already paid some compensation for property destroyed. Federal authorities have also announced the arrest of police accused of the murder of Yusuf and his close associates.
Meanwhile, there are thousands of internally displaced persons fleeing the violence in Maiduguri. Some of the violence has been caused by the police and the army, with official acknowledgements of "overzealousness." But, the army and police are not leaving Borno anytime soon. President Jonathan, supported by the AREWA Forum (a venue of the Northern establishment), announced that federal troops would remain in Maiduguri, an indication of elite fear of Boko Haram. (While press reports of the meeting are not altogether clear, it looks like at least some of the Borno elders, also involved in this meeting, wanted the troops withdrawn but were overruled by AREWA and the president.)
The basis of popular support for Boko Haram and other radical and millenarian movements in the North is the region's profound poverty and its perception that it is marginalized. Factors such as population pressure, de-industrialization, and reduced pasturage because of climate change makes the North unstable, even if there is a dialogue with parts of Boko Haram.
Source : The Atlantic
Comments (0)
Islam-baiting doesn't work

During the 2010 midterm election campaign, virtually every hard-charging candidate on the far right took a moment to trash a Muslim, a mosque, or Islamic pieties.
In the wake of those elections, with 85 new Republican members of the House of Representatives and a surging Tea Party movement, the political virtues of anti-Muslim rhetoric as a means of rousing voters and alarming the general electorate have gone largely unchallenged. It has become an article of faith that a successful 2010 candidate on the right should treat Islam with revulsion, drawing a line between America the Beautiful and the destructive impurities of Islamic cultists and radicals.
"Americans are learning what Europeans have known for years: Islam-bashing wins votes," wrote journalist Michael Scott Moore in the wake of the 2010 election. His assumption was shared by many then and is still widely accepted today.
But as the 2012 campaign ramps up along with the anti-Muslim rhetoric machine, a look back at 2010 turns out to offer quite an unexpected story about the American electorate. In fact, with rare exceptions, "Islam-bashing" proved a strikingly poor campaign tactic. In state after state, candidates who focused on illusory Muslim "threats", tied ordinary American Muslims to terrorists and radicals, or characterized mosques as halls of triumph (and prayer in them as indoctrination) went down to defeat.
Far from winning votes, it could be argued that "Muslim-bashing" alienated large swaths of the electorate – even as it hardened an already hard core on the right.
The fact is that many of the loudest anti-Muslim candidates lost, and for a number of those who won, victory came by the smallest of margins, often driven by forces that went well beyond anti-Muslim rhetoric.  A careful look at 2010 election results indicates that Islamophobic talking points can gain attention for a candidate, but the constituency that can be swayed by them remains limited, although not insignificant.
Demogoguing the "Ground Zero Mosque"
It's worth taking a closer look. In 2010, anti-Muslim rhetoric rode in with the emergence that July of a "mosque" controversy in lower Manhattan. New York Republican gubernatorial candidate Rick Lazio, facing indifference to his candidacy in the primary race, took up what right-wing anti-Muslim bloggers had dubbed "the Ground Zero Mosque", although the planned cultural center in question would not have been a mosque and was not at Ground Zero.
With a handy alternate reality already sketched out for him, Lazio demanded that Democratic gubernatorial candidate Andrew Cuomo, then state attourney general, "investigate" the mosque. He implied as well that its leaders had ties to Hamas and that the building, when built, would somehow represent a threat to the "personal security and safety" of city residents.
A fog of acrid rhetoric subsequently enshrouded the campaign – from Lazio and from his Tea Party-backed opponent, Carl Paladino, a Buffalo businessman. Paladino beat the hapless Lazio in the primary and was then handily dispatched by Cuomo in the general election. Cuomo had not joined the Muslim bashing, but by the end of the race, dozens of major political figures and potential Republican presidential candidates – including Newt Gingrich, Tim Pawlenty, Mitt Romney, Michele Bachmann, Rick Santorum, Sarah Palin, and Rick Perry – had denounced the loathsome Ground Zero Mosque and sometimes the whole of Islam. What began as a local issue had by then become a national political litmus test and a wormhole to the country's darkest sentiments.
But the hard reality of election results demonstrated one incontrovertible fact. Both Lazio and Paladino, heavily invested in portraying Muslims as somehow different from everyone else, went down to dismal defeats. Nor could these trouncings simply be passed off as what happens in a relatively liberal northeastern state.  Even in supposed hotbeds of anti-Muslim sentiment, xenophobic rhetoric and fear-mongering repeatedly proved weak reeds for candidates.
Take Tennessee, a state in the throes of its own mosque-building controversy (in Murfreesboro) at the height of the 2010 campaign.  There, gubernatorial candidate Ron Ramsey couldn't slam Islam often enough. Despite raising $2.7m, however, he went down to defeat in the Republican primary, attracting only 22 per cent of the vote. During the campaign, Republican victor Bill Haslam, now governor, simply stated that decisions about mosques and religious construction projects should be governed by local zoning ordinances and the Constitution.
In another 2010 Tennessee race, Lou Ann Zelenik, a Tennessee Republican congressional candidate and Tea Party activist, denounced the Murfreesboro mosque plans relentlessly. Zelenik ran her campaign like an unreconstructed Indian fighter, with Muslims standing in as opponents in a frontier war.  As she typically put the matter, "Until the American Muslim community find it in their hearts to separate themselves from their evil, radical counterparts, to condemn those who want to destroy our civilisation and will fight against them, we are not obligated to open our society to any of them".
It didn't work. Zelenik, too, was defeated, attracting 30 per cent of the vote in a three-way primary race; the winner, state senator Diane Black, edged her out with 31 per cent. Black declined to denounce the Murfreesboro mosque project and went on to win the general election.
Little electoral success for Islamophobes
The impotency of anti-Muslim rhetoric was not some isolated local phenomenon. Consider this: in the 2010 election cycle, anti-Muslim Senate candidate Sharron Angle was defeated in Nevada, and the similarly inclined Jeff Greene lost his Senate bid in Florida. A slew of congressional candidates who engaged in anti-Muslim rants or crassly sought to exploit the Ground Zero Mosque controversy also went down, including Francis X. Becker, Jr., in New York, Kevin Calvey in Oklahoma, Dan Fanelli and Ronald McNeil in Florida, Ilario Pantano in North Carolina, Spike Maynard in West Virginia, and Dr. Marvin Scott in Indiana.
Not all candidates bad-mouthing Muslims failed, of course. Renee Ellmers, a nurse running in North Carolina's Second District, won her race by about 1,500 votes after airing an incendiary television spot that likened the lower Manhattan cultural center to a "victory mosque" and conflated Islam with terrorism. But Ellmers' main campaign talking point was the abomination of health-care reform. That "victory mosque" was only a bauble-like embellishment, a dazzling attention-grabber.
Similarly, Republican Rick Scott, running for governor in Florida, featured a deceptive television ad that referred to the New York project as "Obama's mosque" and, like Ellmers' ad, seamlessly fused Islam, terrorism, and murder. Tea Party favourite Scott, however, had a slight advantage in gaining a victory margin of about one percentage point over Democrat Alex Sink: he poured a staggering $73m of his own money into the race in which he largely painted Obama as an anti-business incompetent.
Despite lavishing more personal cash on the race than any candidate in Florida history, Scott won by less than 100,000 votes, falling short of 50 per cent of the total.  He was only the second Florida governor to take office without the backing of a majority of the electorate.
If some virulent political rhetoric was credited with bringing victory to candidates at the time, its effect in retrospect looks more questionable and less impressive.  Take the victorious campaign of Republican Allen West in Florida's 22nd Congressional District.  A Tea Party favorite quick to exploit anti-Muslim fears, he was also a veteran of the Iraq War and had been fined by the Army for the beating and threatened killing of an Iraqi prisoner.
During the campaign, he made numerous statements linking Islam with terrorism and weighed in loudly on the proposed Manhattan Islamic center more than 1,000 miles away. In an open letter to his opponent, two-term incumbent Democrat Ron Klein, he noted that "the mosque symbolizes a clear victory in the eyes of those who brought down the twin towers". Klein then caved and joined West in opposing the cultural center, claiming that Ground Zero should only be "a living memorial where all Americans can honor those who were killed on September 11, 2001″.
In the election, West reversed the results of his 2008 race against Klein and ever since, his victory has been seen as one of the triumphs of anti-Muslim trash talking.  A look at the numbers, however, tells a slightly different story. For one thing, West, too, had a significant financial advantage.  He had already raised more than $4m when the campaign began, more than four times his total in 2008 and twice as much as Klein. Much of West's funding came from out-of-state donors and conservative PACs.
For all that money, however, West won the election by not "losing" as many votes as Klein did (when compared to 2008). In 2010, West won with about 115,000 votes to Klein's 97,000; in 2008, when Klein had the funding advantage and a presidential year electorate at his back, he beat West, 169,000 to 140,000.
Off-year elections normally mean lower turnouts, which clearly worked to West's advantage. His victory total amounted to about a third of the 2008 total vote. And there's the point. The motivated, far-right base of the Republican Party/Tea Party can, at best, pull in about a quarter to a third of the larger electorate. In addition, West became the Definer: He blocked out the issues, agitated his base, and got people to the polls. Klein ceded the terms of the debate to him and failed to galvanize support.
Did anti-Muslim rhetoric help West? Probably. Can it work in a presidential election year when substantial turnout ensures that the base won't rule? Unlikely.
2012 hopefuls turn up anti-Muslim vitriol
Nevertheless, candidates on the right are already ramping up the rhetoric for 2012. Herman Cain, the pizza king who would be president, is but one obvious example. He says he may not know much, but one thing he knows for sure: when he's elected, no Muslims will find their way into his administration.
As he put it in an interview with Christianity Today, "Based upon the little knowledge that I have of the Muslim religion, you know, they have an objective to convert all infidels or kill them". Cain told the website Think Progress that he'd brook no Muslim cabinet members or judges because "there is this creeping attempt, there's this attempt to gradually ease Sharia law and the Muslim faith into our government. It does not belong in our government".
Before a national television audience at a recent Republican presidential debate, however, Cain proceeded to say that he really hadn't said what he had, in fact, said. This is called a "clarification". What he meant, Cain reassured television viewers, was that he would only bar disloyal Muslims, the ones "trying to kill us".
It almost seems as if candidates defeated in 2010 when using over-the-top anti-Muslim rhetoric are expecting a different outcome in 2012. Lawyer Lynne Torgerson in Minnesota is a fine example of this syndrome. In 2010, she decided to take on Keith Ellison, the first Muslim member of Congress, pounding him relentlessly for his supposed "ties" to "radical Islamism".
"And what do I know of Islam?" she wrote on the "issues" page of her 2010 campaign website. "Well, I know of 911." Alas for Torgerson, the strategy didn't work out so well. She was crushed by Ellison, garnering only 3 per cent of the vote. Now, Torgerson is back, her message even more extreme. Ellison is no longer simply tied to "radical Islamism", whatever that may be; he has apparently used his time in Congress to become a "radical Islamist" pushing, she claims, nothing less than the adoption of "Islamic Sharia law".
Sharia law is the new Ground Zero Mosque
Sharia has become the Ground Zero Mosque of 2012, with about 20 states considering laws that would ban its use and candidates shrilly denouncing it – a convenient way, presumably, to keep harping on nonexistent, yet anxiety-producing, "threats". Since no one knows what you're talking about when you decry Sharia, it's even easier than usual to say anything, no matter how bizarre or duplicitous.
So be prepared to hear a lot about "Sharia" between now and November 2012.
Going forward a few things seem clear. For one, the Islamophobic machinery fueled by large right-wing foundations, PACs, individuals, and business interests will continue to elaborate a virtual reality in which Muslim and Islamic "threats" lurk around every American corner and behind every door. It is important to realize that once you've entered this political landscape, taking down anti-Muslim "facts" with reality is a fool's errand.  This is a realm akin to a video game, where such "facts" are dispatched only to rise again like so many zombies. In the world of Resident Evil, truth hardly matters.
But bear in mind that, as the 2010 election results made clear, that particular virtual reality is embraced by a distinct and limited American minority.  For at least 70 per cent of the electorate, when it comes to anti-Muslim slander, facts do matter. Failure to challenge the bogus rhetoric only allows the loudest, most reckless political gamer to set the agenda, as Ron Klein discovered to his dismay in Florida.
Attacks on the deadly threat of Sharia, the puffing up of Muslim plots against America, and the smearing of candidates who decline to make blanket denunciations of "Islamism" are sure to emerge loudly in the 2012 election season. Such rhetoric, however, may prove even less potent at the polls than the relatively impotent 2010 version, even if this reality has gone largely unnoticed by the national media.
For those who live outside the precincts where right-wing virtual reality reigns supreme, facts are apparently having an impact. The vast majority of the electorate seems to be viewing anti-Muslim alarms as a distraction from other, far more pressing problems: real problems.
Source : Aljazeera.net
Comments (0)
Islamic healers treat wounds in Russia's Chechnya

Outside, a long line of patients wait at Chechnya's state-run Islamic Medical Center, hoping its staff can heal deep psychological wounds left by years of war in the volatile region in Russia's North Caucasus.
Nearly fifteen years after her brother was killed in the first separatist war, and more than a decade after the second conflict drove her family from their home, Milena is one of thousands of Chechens who have turned to traditional "Islamic" medicine for relief.
The center in the mountainous territory has flourished alongside a resurgence of Islam encouraged by firebrand leader Ramzan Kadyrov after years of repression by secular Communist authorities.
In a three-storey building in the Chechen capital Grozny, 11 healers prescribe treatments for anyone knocking on the door.
"We take in about 150 people a day, and we work around the clock," said Daud Selmurzayev, the head of the center.
He said about 150,000 people had passed through the center's doors since its opened two years ago to receive the treatments, popular among some branches of Islam but frowned upon by others.
Healing recitations of the Koran typically take about 30 minutes, he said.
"People understand that the Koran represents the mercy of Allah and in it is the savior from many illnesses," he said.
Most patients are treated for depression or demonic possession, a commonly accepted affliction in Chechnya.
Demand is so high the center is planning to open a new hospital in the region at the end of the Muslim holy month of Ramadan, due to start in Russia on August 1.
The center is the latest in a series of religious initiatives from Kadyrov that have flown in the face of Russia's secular constitution, and outraged rights workers and many Chechens.
Alcohol is all but banned, eateries were closed last year during the entire month of Ramadan and women must wear headscarves in state buildings — an edict passed by Kadyrov in 2007 that is in direct violation of the constitution.
The government runs an evening television program promoting the Islamic Medical Center and its healing powers.
OLD WOUNDS, FRESH TORMENTS
Nearly everyone in the region of almost 1.3 million has suffered through the violence and after effects of two separatist wars since the fall of the Soviet Union.
Milena, whose family fled Grozny during Russian bombardment, moved back to the rubble of the home she was born in. She helped rebuild the house and moved in with her parents and sister.
Her brother went missing as the family escaped and is assumed dead.
"The events of those years have left their mark. Depression was the reason I went to the Islamic Center," said Milena, who declined to give her surname.
As wounds from the wars linger, fresh torments have arisen.
The Kremlin relies on Kadyrov to maintain a shaky peace in Chechnya and keep rebels in check. A growing insurgency across the North Caucasus wants to carve out a separate Islamic state.
Rights workers say Moscow turns a blind eye to numerous human rights abuses carried out by Kadyrov and his law enforcement officials as they fight the insurgency.
Kadyrov has repeatedly denied the accusations of kidnapping, torture and other abuses.
EVIL SPIRITS
Psychologists and medical doctors practice in Chechnya but say their patients are held back by a culture of pride. Fear of punishment from authorities has also silenced complaints and prevented people from coming forward with their problems, say medical staff. Patients at the Islamic Medical Center receive treatment without having to talk directly about their issues.
"The number of people in our republic who suffer from increasing psychological disorders is related to the last two wars," said mullah Alikhan.
Like many Chechens, he also attributes the symptoms to evil spirits who he says are haunting the region.
"Evil spirits usually live in hard to access places, now they are moving to cities and villages … We have to look over our youth especially. Evil spirits as a rule target the youth just as they do the healthy," said Alikhan, who declined to give his last name.
Many of the patients at the Islamic Medical Center are young with few direct memories of the conflict.
Raisa Zhdamaldayeva, 34, says her 10-year-old son refused to pray until she took him to the center, where he underwent treatment.
"I'm so glad Kadyrov built the center," she said. "Now he doesn't miss a single prayer."
Source : Reuters
Comments (0)
Older Posts »